Ink on paper (Traditional)
I work with traditional mediums, ink on paper. Calligraphy designs and compositions are planned out with sketches and then practiced to scale.
Once I and the client are happy with the design, the final artwork is made.
Choices of ink colour vary from black, red, brown, blue and more. There are also a variety of papers which can be used. I use traditional papers from Turkey which have been prepared to a professional standard. These are the best and highest quality of paper available and all purchased from Tiryaki art, a renowned worldwide supplier for calligraphy papers.
The final calligraphy can be given a frame using coloured Nepal paper, which is a premium quality, tissue based paper available in a multitude of colours.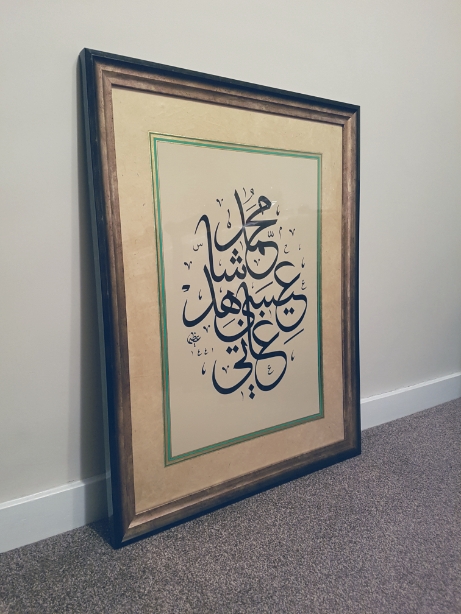 When discussing your commission, I will show you which colours are readily available and what I already have to hand, and also what can be acquired through Tiryaki and used on your piece. There really is every colour imaginable.
Then, the "chain" is done. This is the gold and coloured lines which go all around the final work, once it has been mounted. These colours can also be selected specifically, and are done in gouache, which is an opaque, matt paint, available in a multitude of colours.
The final work can be provided rolled, as paper, or if it is completed with a coloured paper frame, it needs to be mounted using traditional wheat-starch onto a muraqqa (mount board).
The work can then be framed behind glass and enjoyed.
There really is nothing quite like traditional calligraphy artwork, completed with professional materials.
You will have a timeless piece of art which has been carefully